This year's Earth Day will draw some of the biggest speakers and celebrities in the world. Stacey Abrams, Al Gore, Jane Fonda, Joaquin Phoenix, Shepard Fairey, Ai Weiwei, and more. Questlove, Ziggy Marley, Jason Mraz, Angélique Kidjo, and others will perform. There will even be DJ'd sets with Talib Kweli, Madame Gandhi, and Soul Clap.
And all of it will be streaming online for 72 hours.
"People are doing something that's never really been done before," says Alec Connon, a coordinator for the Stop The Money Pipeline coalition, a group of organizations that is leading a day of programming during the live stream dubbed "Earth Day Live." The three-day event is hosted by a broader partnership of environmental groups called the Future Coalition and begins on April 22nd. "It's definitely a case of building the ship as we sail across the sea," says Connon.
The plans for Earth Day were already in motion before the coronavirus lockdown was ordered, but the event was too big to cancel. Fortunately many of the major organizations are lead by tech-savvy members who were able to pivot event coordination through a flurry of Google Docs and Zoom meets.
"From the very beginning, we knew in the back of our minds that we had to match the momentum, and that it couldn't just be a social media campaign that you just like, do a tweet storm," says Dillon Bernard, Future Coalition's communications director. "To match the impact we wanted to make, it had to be something that was fittingly out of bounds, because I think as a youth-led movement we also kind of toe the line of what would usually be considered impossible."
Many of the groups behind Earth Day Live — including US Youth Climate Strike, Sunrise Movement, and Extinction Rebellion — also organized many of the major protests this past year. They were behind the September protests during the climate change symposium at the United Nations, and they are spearheading the protests against JP Morgan Chase bank over their funding of the fossil fuel industries.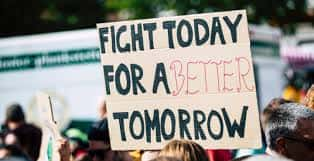 "This is not about a celebration, it never was. It was about creating the world's largest movement to force our leaders, our corporate leaders, our national leaders, even our international leaders to get off their butts and do something," says Kathleen Rogers, president of Earth Day Network, which grew out of the very first Earth Day and helps to coordinate annual events worldwide. "You cannot use the word celebrate in our office," Rogers says.
To watch the event, go to their website
https://www.youtube.com/watch?v=XBrnnByieL4