Despite the overwhelming ecological damage that fossil and coal fuels have caused over the generations, it still remains a very lucrative industry. Oil wells, fracking operations, mining operations, and offsea drilling remain enterprises that can generate billions in revenue, but they're also the chief culprits in making the world unlivable for us all.
These industries cannot finance their work on their own and they've sought partnerships with some of the biggest financial firms in the world. JPMorgan Chase lent $196 billion to the fossil-fuel industry over the last few years, 29 percent more than any other bank in the world. They also loan 63% more money to exploratory endeavors (offsea and Arctic drilling, fresh pipelines) than any more bank. Other banks are guilty of exploiting the fossil fuels industry, including Citi, Wells Fargo, and Bank of America have all loaned at least a hundred billion dollars to these industries, but they remain in the shadows of the money spent by Chase on these destructive endeavors.
The Rolling Stone article that threw a spotlight on Chase's destructive lending practices "the First National Bank of Flood and Fire. It's Hades Savings and Loan. It is the Doomsday Bank."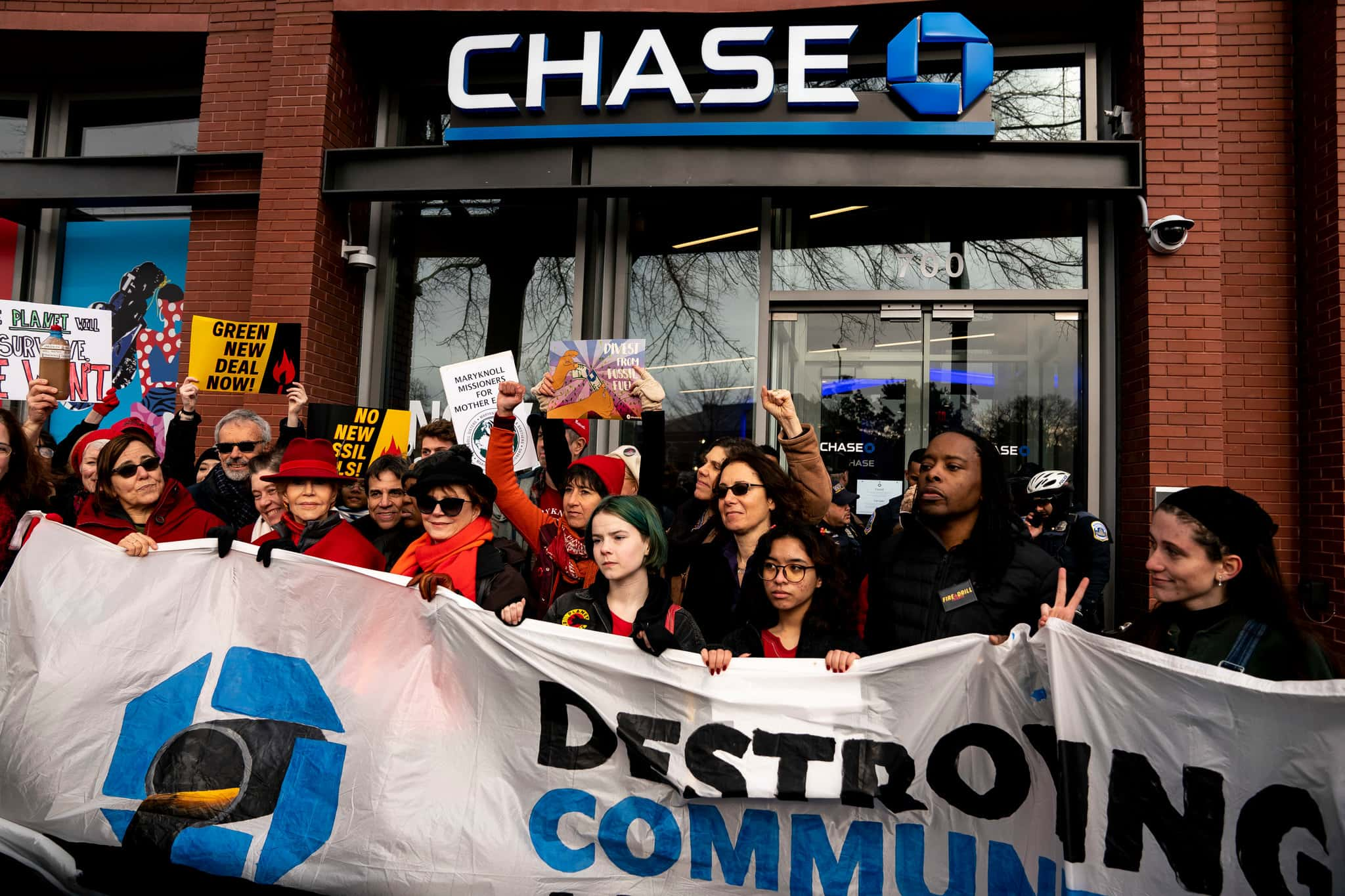 Activist groups have been pushing hard against Chase, having laid siege to the Bank's Pacific Northwest headquarters in Seattle. Their primary focus is on CEO Jamie Dimon, who is scheduled to meet the public during their annual Investor Day. There is some sense that the public protests are gaining their attention. A private memo to high-end clients from company economists, in which they explained that climate change could produce "catastrophic outcomes where human life as we know it is threatened," was leaked to the British press this past Friday.
Jamie Dimon is an interesting character. He was a supporter of the Paris Accord and said, "We call for leadership and cooperation among governments for commitments leading to a strong global climate agreement." He disagreed with President Trump pulling out of the climate accords, but still voiced his support for the president himself. Despite his progressive public statements, he presided over the bank during the times it had done the most damage to the environment. "Chase is number one with a bullet," says Jason Opeña Disterhoft, a senior campaigner for the Rainforest Action Network team that tracks banks and their fossil-fuel investments.
"I would ask Mr. Dimon to come visit us here in the middle of America, where we protect our land and water with everything we have because the land is everything we have," says Jane Kleeb, the chair of the Nebraska Democratic Party, who has devoted much of her life to fighting the Keystone XL pipeline. "Our culture, identity, and livelihoods are tied to the land. If he met us, if he sees the land, if he feels the water, I'm confident he would stand with us. It's easy to forget us and discount us and instead focus on your shareholders when you don't have to look us in the eye and tell us we don't matter."
From the article:
Maybe you're one of that fast-growing group of people beginning to feel queasy about the climate crisis — beginning to feel like you need to do more to make a difference. You probably don't have a coal mine in your neighborhood, or a fracking well in the cul de sac. But the odds are high there's a Chase Bank branch not far away. So here's your chance to take a stand.
https://www.youtube.com/watch?v=CAzM4Q-cgf0