Since we're all stuck indoors, it's an excellent time to catch up on your reading. There are lots of great books out there and it's easy to get overwhelmend, but here are some of our favorite picks to keep you occupied while we all wait this out.
Stay Sexy & Don't Get Murdered: The Definitive How-To Guide by Karen Kilgariff, Georgia Hardstark
The highly anticipated first book by Karen Kilgariff and Georgia Hardstark, the voices behind the #1 hit podcast My Favorite Murder!
Sharing never-before-heard stories ranging from their struggles with depression, eating disorders, and addiction, Karen and Georgia irreverently recount their biggest mistakes and deepest fears, reflecting on the formative life events that shaped them into two of the most followed voices in the nation.
In Stay Sexy & Don't Get Murdered, Karen and Georgia focus on the importance of self-advocating and valuing personal safety over being 'nice' or 'helpful.' They delve into their own pasts, true crime stories, and beyond to discuss meaningful cultural and societal issues with fierce empathy and unapologetic frankness.
"My Favorite Murder started as a way for Karen Kilgariff and Georgia Hardstark to work through their fears. Now it's a worldwide community…. Even its darkest moments are lightened by Karen and Georgia's effortlessly funny banter and genuine empathy." ―RollingStone.com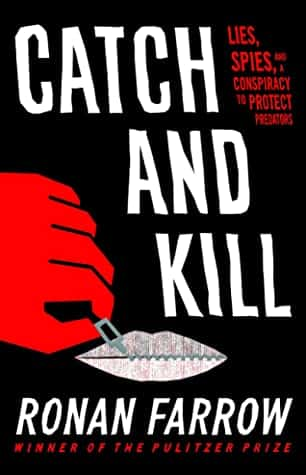 Catch and Kill: Lies, Spies, and a Conspiracy to Protect Predators by Ronan Farrow
In this instant New York Times bestselling account of violence and espionage, Pulitzer Prize-winning investigative reporter Ronan Farrow exposes serial abusers and a cabal of powerful interests hell-bent on covering up the truth, at any cost.
In 2017, a routine network television investigation led Ronan Farrow to a story only whispered about: one of Hollywood's most powerful producers was a predator, protected by fear, wealth, and a conspiracy of silence. As Farrow drew closer to the truth, shadowy operatives, from high-priced lawyers to elite war-hardened spies, mounted a secret campaign of intimidation, threatening his career, following his every move, and weaponizing an account of abuse in his own family.
All the while, Farrow and his producer faced a degree of resistance they could not explain -- until now. And a trail of clues revealed corruption and cover-ups from Hollywood to Washington and beyond.
This is the untold story of the exotic tactics of surveillance and intimidation deployed by wealthy and connected men to threaten journalists, evade accountability, and silence victims of abuse. And it's the story of the women who risked everything to expose the truth and spark a global movement.
Both a spy thriller and a meticulous work of investigative journalism, Catch and Kill breaks devastating new stories about the rampant abuse of power and sheds far-reaching light on investigations that shook our culture.
Parkland: Birth of a Movement by Dave Cullen
On the first anniversary of the events at Parkland, the acclaimed, New York Times bestselling author of Columbine offers an intimate, deeply moving account of the extraordinary teenage survivors who became activists and pushed back against the NRA and feckless Congressional leaders—inspiring millions of Americans to join their grassroots #neveragain movement.
Nineteen years ago, Dave Cullen was among the first to arrive at Columbine High, even before most of the SWAT teams went in. While writing his acclaimed account of the tragedy, he suffered two bouts of secondary PTSD. He covered all the later tragedies from a distance, working with a cadre of experts cultivated from academia and the FBI, but swore he would never return to the scene of a ghastly crime.But in March 2018, Cullen went to Marjory Stoneman Douglas High School because something radically different was happening. In nearly twenty years witnessing the mass shootings epidemic escalate, he was stunned and awed by the courage, anger, and conviction of the high school's students. Refusing to allow adults and the media to shape their story, these remarkable adolescents took control, using their grief as a catalyst for change, transforming tragedy into a movement of astonishing hope that has galvanized a nation.
Cullen unfolds the story of Parkland through the voices of key participants whose diverse personalities and outlooks comprise every facet of the movement. Instead of taking us into the minds of the killer, he takes us into the hearts of the Douglas students as they cope with the common concerns of high school students everywhere—awaiting college acceptance letters, studying for mid-term exams, competing against their athletic rivals, putting together the yearbook, staging the musical Spring Awakening, enjoying prom and graduation—while moving forward from a horrific event that has altered them forever.
Deeply researched and beautifully told, Parkland is an in-depth examination of this pivotal moment in American culture—and an up-close portrait that reveals what these extraordinary young people are like as kids. As it celebrates the passion of these astonishing students who are making history, this spellbinding book is an inspiring call to action for lasting change.
Furious Hours: Murder, Fraud, and the Last Trial of Harper Lee by Casey Cep
Reverend Willie Maxwell was a rural preacher accused of murdering five of his family members for insurance money in the 1970s. With the help of a savvy lawyer, he escaped justice for years until a relative shot him dead at the funeral of his last victim. Despite hundreds of witnesses, Maxwell's murderer was acquitted—thanks to the same attorney who had previously defended the Reverend.
Sitting in the audience during the vigilante's trial was Harper Lee, who had traveled from New York City to her native Alabama with the idea of writing her own In Cold Blood, the true-crime classic she had helped her friend Truman Capote research seventeen years earlier. Lee spent a year in town reporting, and many more years working on her own version of the case.
Now Casey Cep brings this story to life, from the shocking murders to the courtroom drama to the racial politics of the Deep South. At the same time, she offers a deeply moving portrait of one of the country's most beloved writers and her struggle with fame, success, and the mystery of artistic creativity.
How to Be an Antiracist by Ibram X. Kendi
Antiracism is a transformative concept that reorients and reenergizes the conversation about racism—and, even more fundamentally, points us toward liberating new ways of thinking about ourselves and each other. At it's core, racism is a powerful system that creates false hierarchies of human value; its warped logic extends beyond race, from the way we regard people of different ethnicities or skin colors to the way we treat people of different sexes, gender identities, and body types. Racism intersects with class and culture and geography and even changes the way we see and value ourselves. In How to Be an Antiracist, Kendi takes readers through a widening circle of antiracist ideas—from the most basic concepts to visionary possibilites—that will help readers see all forms of racism clearly, understand their posionous consequences, and work to oppose them in our systems and in ourselves.
Kendi weaves an electrifying combination of ethics, history, law, and science with his own personal story of awakening to antiracism. This is an essential work for anyone who wants to go beyond the awareness of racism to the next step: contributing to the formation of a just and equitable society.
Blowout: Corrupted Democracy, Rogue State Russia, and the Richest, Most Destructive Industry on Earth by Rachel Maddow
In 2010, the words "earthquake swarm" entered the lexicon in Oklahoma. That same year, a trove of Michael Jackson memorabilia—including his iconic crystal-encrusted white glove—was sold at auction for over $1 million to a guy who was, officially, just the lowly forestry minister of the tiny nation of Equatorial Guinea. And in 2014, Ukrainian revolutionaries raided the palace of their ousted president and found a zoo of peacocks, gilded toilets, and a floating restaurant modeled after a Spanish galleon. Unlikely as it might seem, there is a thread connecting these events, and Rachel Maddow follows it to its crooked source: the unimaginably lucrative and equally corrupting oil and gas industry.
With her trademark black humor, Maddow takes us on a switchback journey around the globe, revealing the greed and incompetence of Big Oil and Gas along the way, and drawing a surprising conclusion about why the Russian government hacked the 2016 U.S. election. She deftly shows how Russia's rich reserves of crude have, paradoxically, stunted its growth, forcing Putin to maintain his power by spreading Russia's rot into its rivals, its neighbors, the West's most important alliances, and the United States. Chevron, BP, and a host of other industry players get their star turn, most notably ExxonMobil and the deceptively well-behaved Rex Tillerson. The oil and gas industry has weakened democracies in developed and developing countries, fouled oceans and rivers, and propped up authoritarian thieves and killers. But being outraged at it is, according to Maddow, "like being indignant when a lion takes down and eats a gazelle. You can't really blame the lion. It's in her nature."
Blowout is a call to contain the lion: to stop subsidizing the wealthiest businesses on earth, to fight for transparency, and to check the influence of the world's most destructive industry and its enablers. The stakes have never been higher. As Maddow writes, "Democracy either wins this one or disappears."
The Five: The Untold Lives of the Women Killed by Jack the Ripper by Hallie Rubenhold
Five devastating human stories and a dark and moving portrait of Victorian London—the untold lives of the women killed by Jack the Ripper
Polly, Annie, Elisabeth, Catherine, and Mary Jane are famous for the same thing, though they never met. They came from Fleet Street, Knightsbridge, Wolverhampton, Sweden, and Wales. They wrote ballads, ran coffeehouses, lived on country estates; they breathed ink dust from printing presses and escaped human traffickers.
What they had in common was the year of their murders: 1888. The person responsible was never identified, but the character created by the press to fill that gap has become far more famous than any of these five women.
For more than a century, newspapers have been keen to tell us that "the Ripper" preyed on prostitutes. Not only is this untrue, as historian Hallie Rubenhold has discovered, but it has prevented the real stories of these fascinating women from being told. Now, in this devastating narrative of five lives, Rubenhold finally sets the record straight, revealing a world not just of Dickens and Queen Victoria, but of poverty, homelessness, and rampant misogyny. They died because they were in the wrong place at the wrong time—but their greatest misfortune was to be born women.
Will My Cat Eat My Eyeballs? Big Questions from Tiny Mortals About Death by Caitlin Doughty, Dianné Ruz
Best-selling author and mortician Caitlin Doughty answers real questions from kids about death, dead bodies, and decomposition.
Every day, funeral director Caitlin Doughty receives dozens of questions about death. The best questions come from kids. What would happen to an astronaut's body if it were pushed out of a space shuttle? Do people poop when they die? Can Grandma have a Viking funeral?
In Will My Cat Eat My Eyeballs?, Doughty blends her mortician's knowledge of the body and the intriguing history behind common misconceptions about corpses to offer factual, hilarious, and candid answers to thirty-five distinctive questions posed by her youngest fans. In her inimitable voice, Doughty details lore and science of what happens to, and inside, our bodies after we die. Why do corpses groan? What causes bodies to turn colors during decomposition? And why do hair and nails appear longer after death? Readers will learn the best soil for mummifying your body, whether you can preserve your best friend's skull as a keepsake, and what happens when you die on a plane.
Beautifully illustrated by Dianné Ruz, Will My Cat Eat My Eyeballs? shows us that death is science and art, and only by asking questions can we begin to embrace it.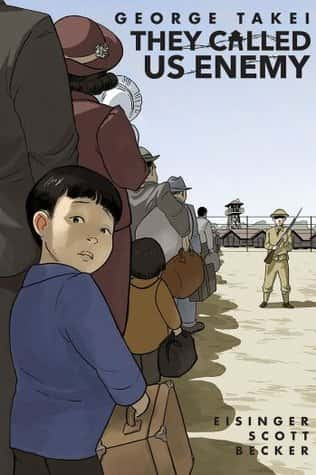 They Called Us Enemy by George Takei (co-writer), Justin Eisinger (co-writer), Steven Scott (co-writer), Harmony Becker (Artist)
A stunning graphic memoir recounting actor/author/activist George Takei's childhood imprisoned within American concentration camps during World War II. Experience the forces that shaped an American icon -- and America itself -- in this gripping tale of courage, country, loyalty, and love.
George Takei has captured hearts and minds worldwide with his captivating stage presence and outspoken commitment to equal rights. But long before he braved new frontiers in Star Trek, he woke up as a four-year-old boy to find his own birth country at war with his father's -- and their entire family forced from their home into an uncertain future.
In 1942, at the order of President Franklin D. Roosevelt, every person of Japanese descent on the west coast was rounded up and shipped to one of ten "relocation centers," hundreds or thousands of miles from home, where they would be held for years under armed guard.
They Called Us Enemy is Takei's firsthand account of those years behind barbed wire, the joys and terrors of growing up under legalized racism, his mother's hard choices, his father's faith in democracy, and the way those experiences planted the seeds for his astonishing future.What does it mean to be American? Who gets to decide? When the world is against you, what can one person do? To answer these questions, George Takei joins co-writers Justin Eisinger & Steven Scott and artist Harmony Becker for the journey of a lifetime.
I'll Be Gone in the Dark by Michelle McNamara
For more than ten years, a mysterious and violent predator committed fifty sexual assaults in Northern California before moving south, where he perpetrated ten sadistic murders. Then he disappeared, eluding capture by multiple police forces and some of the best detectives in the area.
Three decades later, Michelle McNamara, a true crime journalist who created the popular website TrueCrimeDiary.com, was determined to find the violent psychopath she called "the Golden State Killer." Michelle pored over police reports, interviewed victims, and embedded herself in the online communities that were as obsessed with the case as she was.
I'll Be Gone in the Dark—the masterpiece McNamara was writing at the time of her sudden death—offers an atmospheric snapshot of a moment in American history and a chilling account of a criminal mastermind and the wreckage he left behind. It is also a portrait of a woman's obsession and her unflagging pursuit of the truth. Utterly original and compelling, it has been hailed as a modern true crime classic—one which fulfilled Michelle's dream: helping unmask the Golden State Killer.
Paperbacks from Hell: The Twisted History of '70s and '80s Horror Fiction by Grady Hendrix
An affectionate, nostalgic, and unflinchingly funny celebration of the horror fiction boom of the 1970s and '80s
Take a tour through the horror paperback novels of two iconic decades . . . if you dare. Page through dozens and dozens of amazing book covers featuring well-dressed skeletons, evil dolls, and knife-wielding killer crabs! Read shocking plot summaries that invoke devil worship, satanic children, and haunted real estate! Horror author and vintage paperback book collector Grady Hendrix offers killer commentary and witty insight on these trashy thrillers that tried so hard to be the next Exorcist or Rosemary's Baby. Complete with story summaries and artist and author profiles, this unforgettable volume dishes on familiar authors like V. C. Andrews and R. L. Stine, plus many more who've faded into obscurity. Also included are recommendations for which of these forgotten treasures are well worth your reading time and which should stay buried.